Sahar Parniyan lives in fear after a TV actress was murdered in Kabul
Sunday 26 August 2012
Reading time: (Number of words: )
Sahar Parniyan the prominent Afghanistani Hazara actress said that she lives in fear after the suspicious murder of a TV actress in Kabul.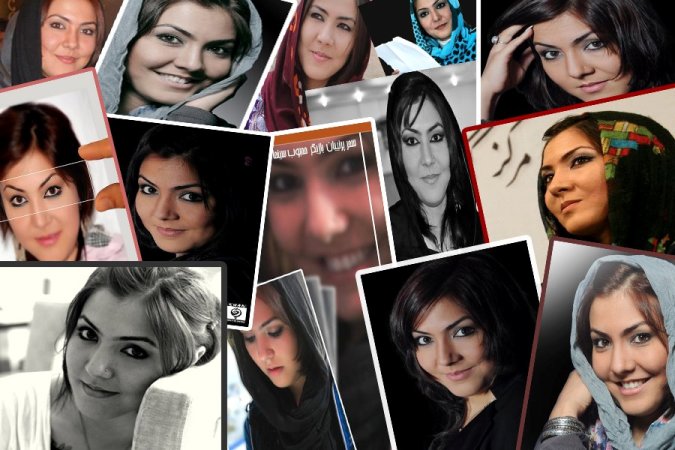 Benafsha a 22 year old TV actress was mysteriously killed west of Kabul on Monday August 20th while well-known Hazara actress Sahar Parniyan was also threatened with murder at the same time by unknown persons. The victim, Benafsha, was stabbed to death by unknown people, it is believed, because she appeared in a TV drama on Imroz TV.
It is said that the parts Benafsha played were considered against Islamic values and morality and therefore she was assassinated while going to a bakery near her home.
Several arrests have been made by the police in district six of Kabul where the murder took place. The police chief claims that it was a personal grudge and not related to her work in television. Friends, colleagues, and observers reject the police statement and believe it is a result of the growth of extremism in the country.
After this incident in Kabul, Sahar Parniyan has not dared leave home. Speaking to Kabul Press, she said that after she received anonymous death threats by phone from people who said she would be the next victim, she asked the office of Chief of Kabul Police for security protection, but the police were disinterested.
Condemning the latest murder, Ms Parniyan says that she is going to write an open letter to Afghanistan's Interior Ministry to ask for help for her security and the security of other TV actresses and women newscasters, and all radio and television entertainers.
When the news about the murder of Benafsha was published on BBC's Persian language radio station, hundreds of Parniayn's fans wrote messages of support on her Facebook Fan Page. She made the following reply to her nearly 6,000 facebook friends:
"My dear fans, I am thankful for your support and your concerns about me, I am fine. I am very sorry for the suspicious murder of two actresses in west of Kabul. I was also threatened to death, by unknown people, to be the next victim, but I am fine right now. Just for a few days, I do not walk out of home and I have changed my address; I am just worried and a bit shocked about what happened to Benafsha and her friend. I am afraid that before 2014, extremism, terror and fundamentalism seem to be increasing that much that takes the lives of artists and activists of civil society.
My only hope is God, your encouragements and benedictions and maybe the security guards. Hereafter I am forced to have security escorts with me, what can I do, it is the situation in my country!"
"دوستان عزیز، تشکر از پیام ها و نظرات و ابراز نگرانی تان درمورد سلامتی ام، حادثه ناگواری که چند روز پیش در غرب کابل رخداد جان دو تن از هنرمندان تلویزیون را گرفت، و مرا هم تهدیداتی کردند که نفر بعدی من هستم که کارم را خلاص کنند، اما تاکنون سلامتم ، فقط اینکه چند روزی است که از خانه خارج نمیشوم تشویش و دلهره ای بسیار دارم .ترسم از اینست که سال 2014 هنوز نیامده بنیاد گرایی، ترور، و ایجاد رعب و وحشت به این حد برسد و به این آسانی جان هنرمندان و فعالین مدنی را بگیرند، فعلن تنها امیدم به خدا، به دعاهای شما علاقه مندانم و شاید هم به محافظ امنیتی باشد، مجبورم از این به بعد با محافظین امنیتی گشت و گذار نمایم، چی کنم، متاسفانه کشورم چنین است"
Sahar Parniyan 21 is an athlete and actress who has appeared in many Afghan dramatic television series including Hechland AKA Ministry which criticizes corruption in the Afghan government. She has been a special guest on Eid days on four different television channels.
Journalists, celebrities and radio and television entertainers in Afghanistan are under pressure from several sides; armed terrorist groups such as the Taliban, unarmed fundamentalists throughout Afghanistan, and the Ulama Council that is the official religious entity in the government body.
The recent growth of fundamentalism is evidently visible in different corners of the country and of great concern to many who fear it might get worse in 2014 after the foreign troops pull-out of Afghanistan.
Several days ago, a concert was canceled in Herat after an extremist scholar criticized it and asked the Ministry of Culture to cancel the concert. Hundreds of people demonstrated in support of the singer and condemned the cancellation of the concert.
In July this year, the works of three artists from Taasha Artist Group were confiscated by the Ministry of Information and Culture in Kabul and the artists were prohibited from participating in any exhibition in Afghanistan.
While so many print and media journalists have been killed, murdered, tortured and faced with violence and censorship in Afghanistan, the battle for freedom of speech still continues there.